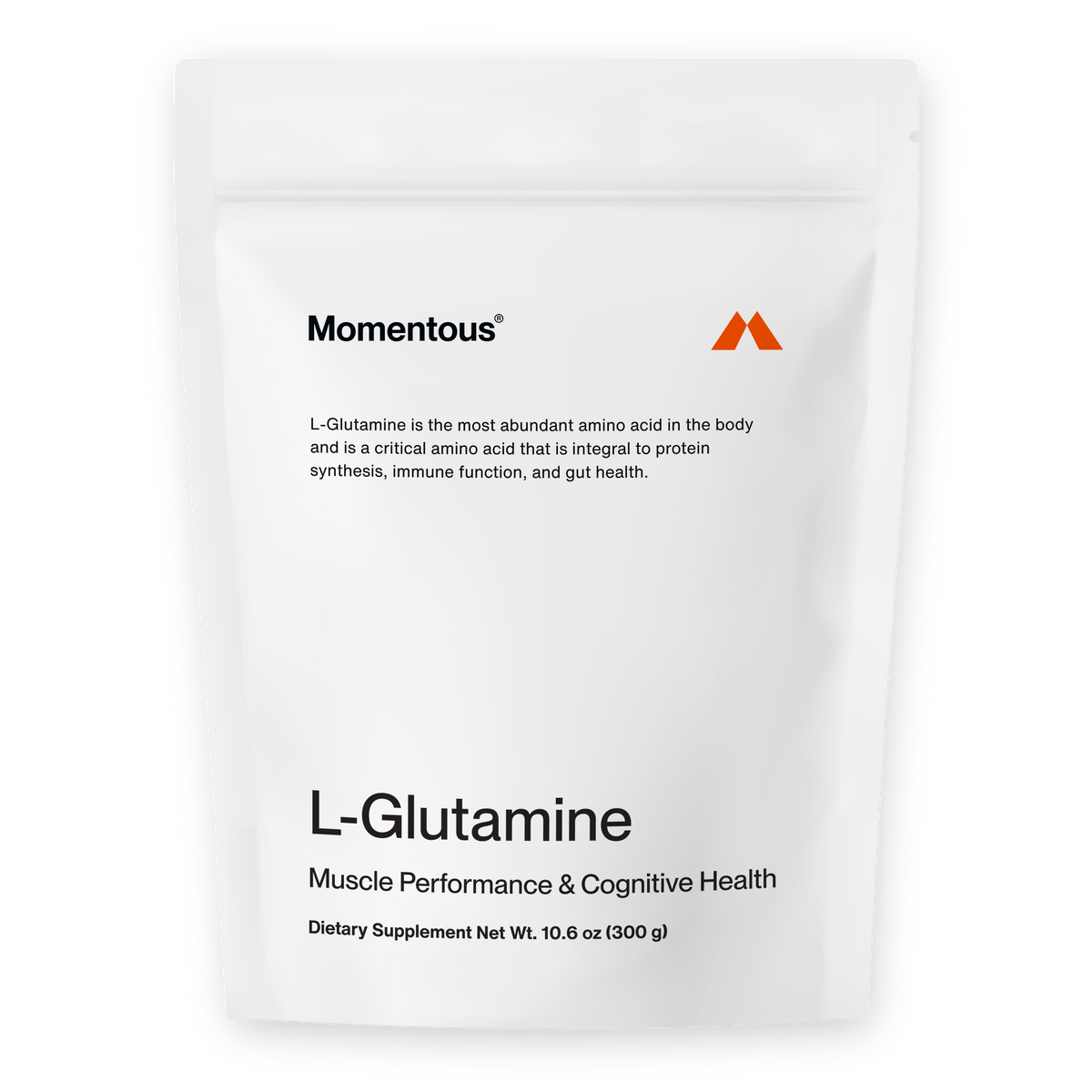 L-Glutamine
L-Glutamine is the most abundant amino acid in the body and is a critical amino acid that is integral to protein synthesis, immune function, and gut health. L-Glutamine is a critical building block of the body supporting protein synthesis, providing energy to cells, and helping aid in muscle growth and repair. Early research also shows it may help maintain a healthy gut microbiome by supporting gut mucosal lining and integrity while reducing inflammation.

Everything at a Glance
GMO Free
Gluten Free
Vegan
Soy Free
Slows down muscle damage from longer and harder workouts
Builds stronger muscles by stimulating protein synthesis
Promotes a healthy gut, which can help strengthen the immune system
Mix 1 scoop with water or your preferred liquid daily
Plays a critical role in various bodily processes including protein synthesis, providing energy to cells, aiding in muscle growth and repair, and helping to maintain a healthy immune system
Essential for maintaining gut health, with supplementation showing support of gut health and function in several ways: promoting a healthy gut microbiome, supporting gut mucosal lining and integrity, and reducing inflammation in the gut
Impeccably High Standards
High-quality sourced
L-Glutamine is sourced from trusted suppliers who adhere to strict quality standards, ensuring purity and potency. L-Glutamine is also Informed Sport-certified.
Expert Verified
Take daily before or after workouts
Mixes well with water or your preferred liquid
L-Glutamine has been extensively researched and is backed by scientific studies. Research suggests that L-Glutamine supplementation can improve exercise performance, reduce muscle soreness, and support immune function. It also shows promise in promoting gut health and aiding in various aspects of overall well-being.
From Patrick Dixon, Director of Applied Sports Science at Momentous
"The gut is the gateway for nutrient digestion and at the same time the shield against harmful substances. L-Glutamine is the fuel used by your gut lining to maintain optimal absorption and defense."
What to Expect With L-Glutamine
When to Use
1 x scoop
Daily with water or your preferred liquid
Onset Time
Use consistently over time for optimal results.
Expected Results
Gut Health
Immune Support
For optimal results, use it consistently as part of your daily routine. Expect improved athletic performance, reduced muscle soreness, enhanced recovery, and better digestive health.
Ingredients We Can Be Proud of
Frequently Asked Questions
Yes, L-Glutamine can be safely combined with other supplements like Vital Aminos and Protein for enhanced performance and recovery benefits.
Absolutely! L-Glutamine is a plant-derived amino acid and is suitable for both vegetarians and vegans.
L-Glutamine is generally well tolerated, even by individuals with sensitive stomachs. In fact, it can help support a healthy gut lining and improve digestion.