PROVEN TO WORK
PR Lotion's benefits in athletics
have been validated in two peer
reviewed clinical studies with
more on the way.
San Diego State University Study
Mark Kern, PhD. RD., professor of Exercise & Nutritional Sciences at San Diego State University, conducted a rigorous randomized, double-blind, placebo controlled, cross-over study of PR Lotion in 20 pro- and semi-pro cyclists and triathletes. Subjects completed high-intensity performance tests after applying PR Lotion.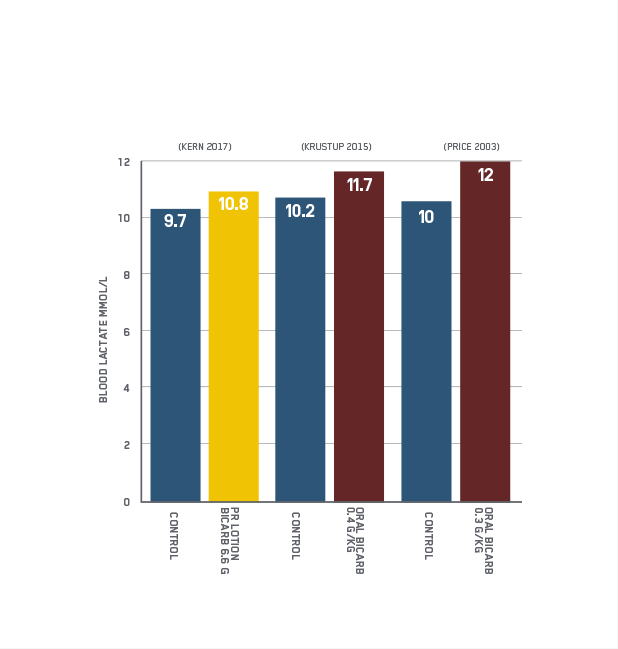 Proven to increase muscle efficiency

RESULTS OF THE STUDY


Following high-intensity time trials, athletes who applied PR Lotion experienced 11% higher blood lactate levels when compared to control.


IMPACT ON THE BODY


More lactate reduces exercise-induced fatigue during a workout. Increased lactate levels help to buffer the muscle and to deliver more fuel during anaerobic workouts, while simultaneously reducing acid build-up.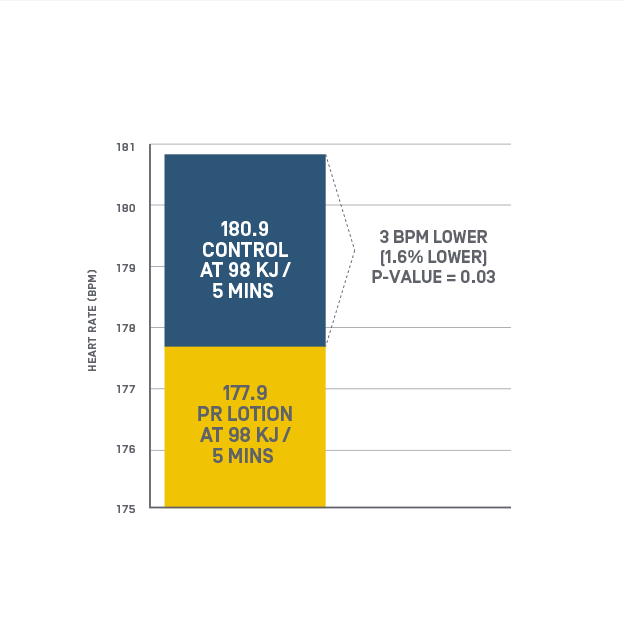 Proven to achieve a lower heart rate at the same workload

RESULTS OF THE STUDY


Athletes who applied PR Lotion displayed a significantly lower heart rate (3.1% lower) and lower level of perceived exertion (2.6% lower) at the 15-minute mark of a 1-hour time trial when compared to the control group under the same training loads.

IMPACT ON THE BODY


A lower heart rate means less physical stress on the body, which allows an athlete perform longer.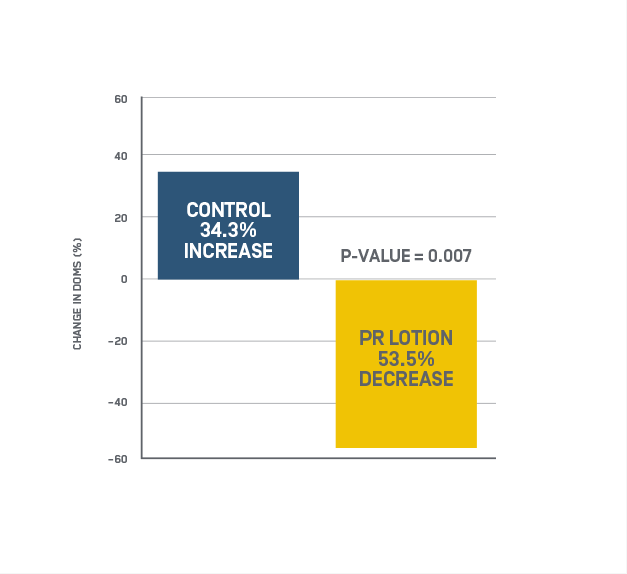 Proven to reduce muscle soreness by 53%

RESULTS OF THE STUDY


Following a series of high-intensity time trials, athletes who applied PR Lotion experienced 53% reduction in Delayed Onset Muscle Soreness (DOMS) compared to a continued rise in pain of 34% when the same athletes used a control lotion.

IMPACT ON THE BODY


A shorter, less painful recovery period allows athletes to feel better after high intensity workouts and get back to training sooner.


Source Endurance Study
Source Endurance, a training and testing service that specializes in endurance sports, conducted a randomized, controlled and blinded test that evaluated the impact of PR Lotion on high-intensity interval cycling performance.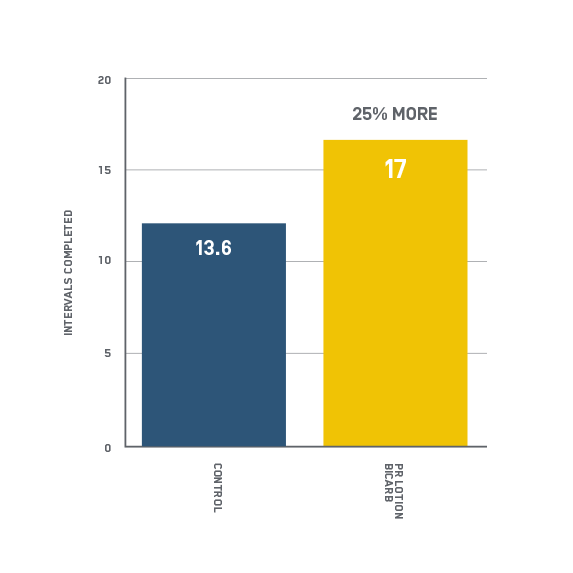 Proven to increase intervals to exhaustion by 25%

RESULTS OF THE STUDY


While using PR Lotion, cyclists completed 25% more (p=0.009) high-intensity intervals before exhaustion when compared to control without any adverse side effects.

IMPACT ON THE BODY


PR Lotion allows athletes to improve performance without the typical side-effects associated with the oral use of bicarb.
VIEW REPORT SUMMARY
---
Hear From Experts

"I use PR Lotion with my patients as a non-invasive way to help treat soreness, by slowing down the inflammation process or reducing the effects of muscle soreness by alkalinizing the tissue. The product is simple and effective, and my patients love the results. For healthy athletes, I recommend PR Lotion to recover faster and to perform at a high level for a prolonged period of time."


- DR. BEAU DANIELS DC, Official Chiropractor for the Los Angeles Rams, Co-Founder of Sports Academy

"In the pursuit of excellence, we are always looking for ways to get 1% better to improve our performance and compete at the highest level possible. PR Lotion is a cutting edge product that allows our athletes to get better and give that extra effort to become the best that they can be."


- BRIJESH PATEL, Head Coach, Strength & Conditioning, Quinnipiac University

"PR Lotion is probably the most innovative product introduced in sports for a long time. Our testing has shown significant improvement when using the product which means it lets you train and compete harder for longer and have less soreness from it. No one else has even attempted something like this and Amp Human got it right."


- ADAM MILLS MSED, RCEP, Source Endurance Coach

"PR Lotion has become a favorite in Peak State Fit triathletes and cyclists alike. We recommend it to all of our athletes in racing and for long, intense training days, but also for post-session pH buffering to yield an environment conducive to muscle recovery and in preparation for the days ahead."


- PAT CASEY, Peak State Fit Coach

"We introduced PR Lotion this past summer and I was able to keep our training intensity high without the normal moaning and groaning from soreness that usually follows. My guys were a little skeptical at first but after they used it a couple of times I heard a lot of 'hey coach, you got any more of that honey mustard stuff?'"


- DAVID VANDYKE, Assistant Athletic Director, Strength & Conditioning, Rutgers University
GET PR LOTION