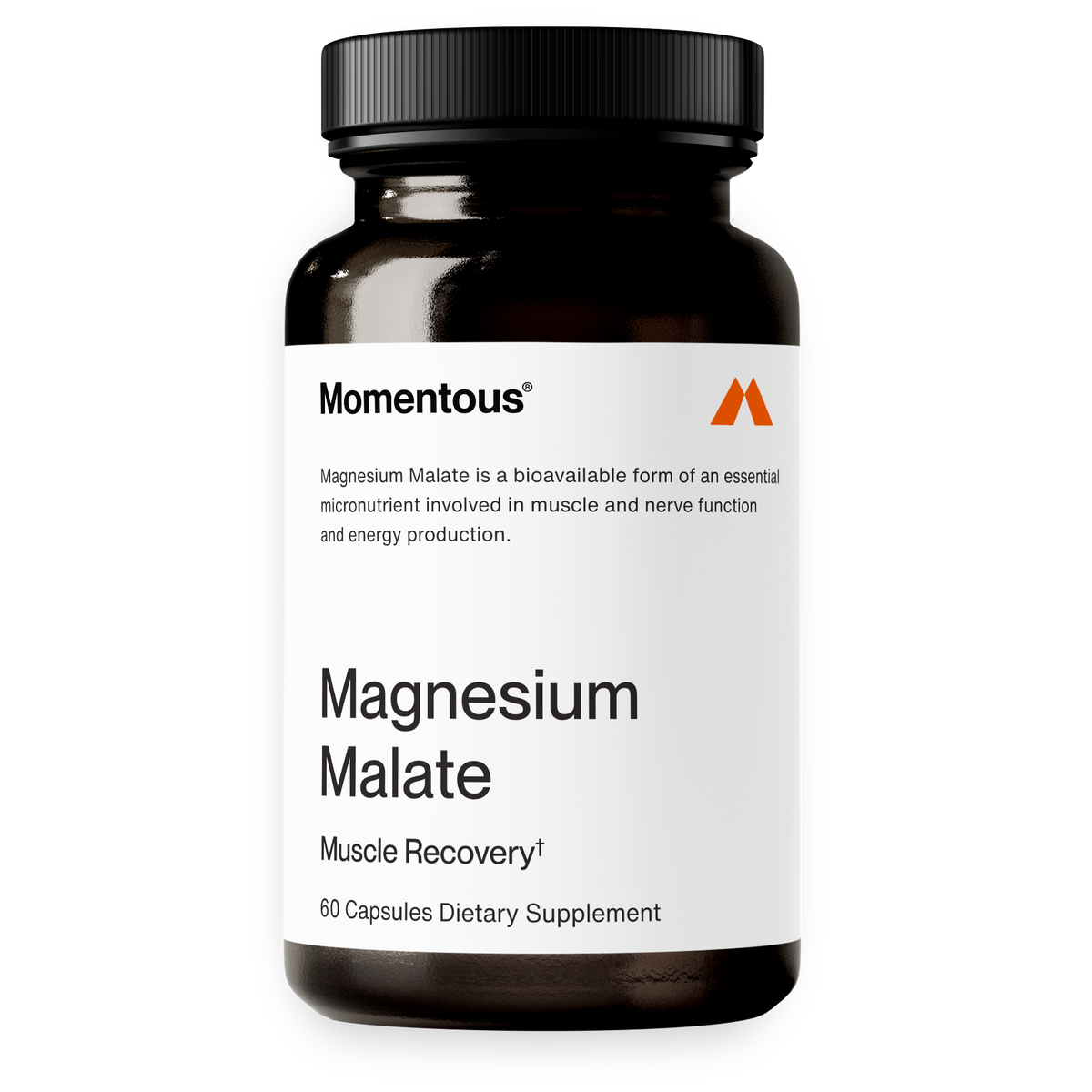 Magnesium Malate
Magnesium Malate is a bioavailable form of an essential micronutrient involved in muscle and nerve function and energy production. Supplementing with Magnesium Malate supports energy metabolism, protein synthesis, nerve and muscle function, and helps you maintain healthy bones. Magnesium is essential for over 600 enzymatic processes from the synthesis of adenosine triphosphate (ATP), the primary energy currency of the body, to helping with muscle relaxation, heart and brain health, and physical performance. It can also help improve sleep and alleviate soreness.
Enhances energy levels and supports muscle function before physical activity
Aids in muscle recovery and reduces post-exercise soreness
Promotes overall well-being, including cardiovascular health, mood balance, and restful sleep
Take 2 capsules with food daily
Plays a vital role in various bodily functions, including energy metabolism, muscle function, protein synthesis, and maintaining healthy bones and teeth
Supports the conversion of vitamin D into its active form to support our bone health, immune system, brain function, and sleep quality
Promotes the proper functioning of enzymes involved in hundreds of biochemical reactions throughout the body
Magnesium (as dimagnesium malate)
Impeccably High Standards
Relentlessly perfected and continuously iterated on
We combine magnesium with malic acid, a naturally occurring compound found in fruits to produce Magnesium Malate. We ensure Magnesium Malate is properly dosed and have it fully NSF- and Informed Sport-certified for banned substances, label claim verification, heavy metals, pesticides, and bacteria.
Expert Verified
The research supporting the benefits of magnesium supplementation, including magnesium malate, is robust and well established. Multiple studies have demonstrated the positive impact of magnesium on energy metabolism, muscle recovery, cardiovascular health, and overall well-being. Scientific literature consistently highlights magnesium's role in enzymatic reactions, ATP synthesis, muscle relaxation, and mood regulation.
There are 2 credible reviews and studies related to this product
From Patrick Dixon, Director of Applied Sports Science at Momentous
"Not all magnesium is the same. Magnesium Malate is readily absorbed and cost-effective in support of hundreds of metabolic processes that include bone strength, muscle function and heart health."
What to Expect With Magnesium Malate
When to Use
2 x capsules
Daily with food
Onset Time
Use consistently over time for optimal results.
Expected Results
Magnesium Malate can be used as a daily supplement to support energy levels, muscle recovery, and overall well-being. Individual results may vary, but users can typically expect improvements in energy levels, reduced muscle soreness, and enhanced overall performance and vitality with consistent use over time.
Ingredients We Can Be Proud of
Frequently Asked Questions
Magnesium plays a role in promoting relaxation and supporting healthy sleep patterns. While Magnesium Malate is not specifically formulated for sleep optimization, it may indirectly contribute to improved sleep quality by supporting overall well-being and relaxation.
Magnesium Malate is generally safe for most individuals. However, if you have any underlying health conditions or are taking medications, it is advisable to consult with a healthcare professional before adding any new supplement to your routine.
Yes, Magnesium Malate can be taken long term as part of a well-rounded supplementation regimen. It is a safe and beneficial mineral that can support various bodily functions. However, it is always recommended to follow the recommended dosage and consult with a healthcare professional if you have any concerns or specific health conditions.