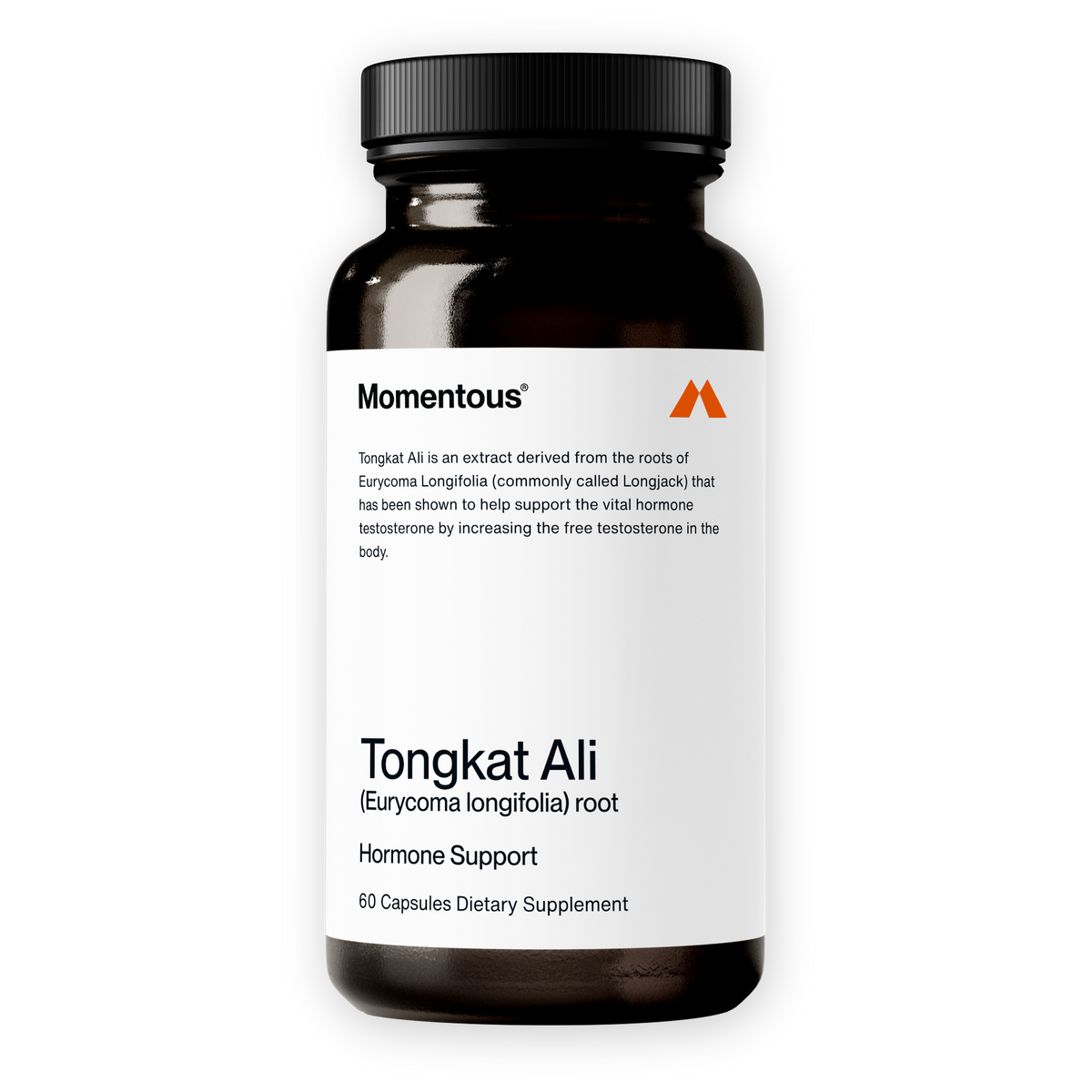 Tongkat Ali
Tongkat Ali is an extract derived from the roots of Eurycoma Longifolia (commonly called Longjack) that has been shown to help support the vital hormone testosterone by increasing the free testosterone in the body. Tongkat Ali is traditionally used in Southeast Asia to address various health concerns. Scientists believe it can help increase free, circulating testosterone by freeing testosterone bound to Sex Hormone Binding Globulin (SHBG) or by stimulating the production of luteinizing hormone, which stimulates testosterone production.
Free shipping on orders over $75 | Money back guarentee
Improves stress hormone profile
Can help increase total and free testosterone concentrations
Can help boost energy and mood
Helps build stronger muscles and accelerate recovery
Increases testosterone by liberating some that are bound to sex hormone-binding globulin (SHBG)
Helps stimulate the production of luteinizing hormone, which helps control testosterone levels
Improves mood and fights fatigue by reducing levels of the stress hormone cortisol
Supplementation may help increase total and free testosterone concentrations and muscular force in men and women
Tongkat Ali (eurycoma longifolia)
Impeccably High Standards
Uniquely sourced
Momentous Tongkat Ali is sourced from Indonesia and contains 100% root powder in its most natural form. For centuries, the root of this plant has been used as a traditional medicine for a variety of ailments. Tongkat Ali contains high levels of naturally occurring testosterone precursors, making it one of the most effective natural testosterone boosters available.
Momentous Tongkat Ali capsule
Expert Verified
While research on Tongkat Ali's effects is ongoing, initial studies have shown promising results in supporting testosterone production, enhancing sexual function, improving body composition, and aiding stress adaptation. However, further research is needed to fully understand the mechanisms and potential benefits of this herb.
There are 2 credible reviews and studies related to this product
From Dr. Andrew Huberman, host of the Huberman Lab podcast
"Tongkat Ali has been shown in several studies that it does seem to have pro-fertility, pro-free testosterone, and subtle aphrodisiac effects."
What to Expect with Tongkat Ali
Onset Time
14 days
Estimated 2-4 weeks of supplementation to experience noticeable effects.
Expected Results
When using Tongkat Ali, you can expect increased energy levels, enhanced libido, improved athletic performance, and an overall sense of vitality.
Ingredients We Can Be Proud of
Frequently Asked Questions
Results may vary depending on individual factors. While some individuals may experience initial effects within a few weeks, consistent use over a more extended period is typically recommended for optimal results.
When used as directed, Tongkat Ali is generally safe. However, it's always recommended to consult with a healthcare professional before starting any new supplement, especially if you have any pre-existing medical conditions or are taking medication.
Yes, Tongkat Ali can be used by women. While it is known for its testosterone-supporting properties, it can also provide benefits such as increased energy and mood enhancement for both men and women.