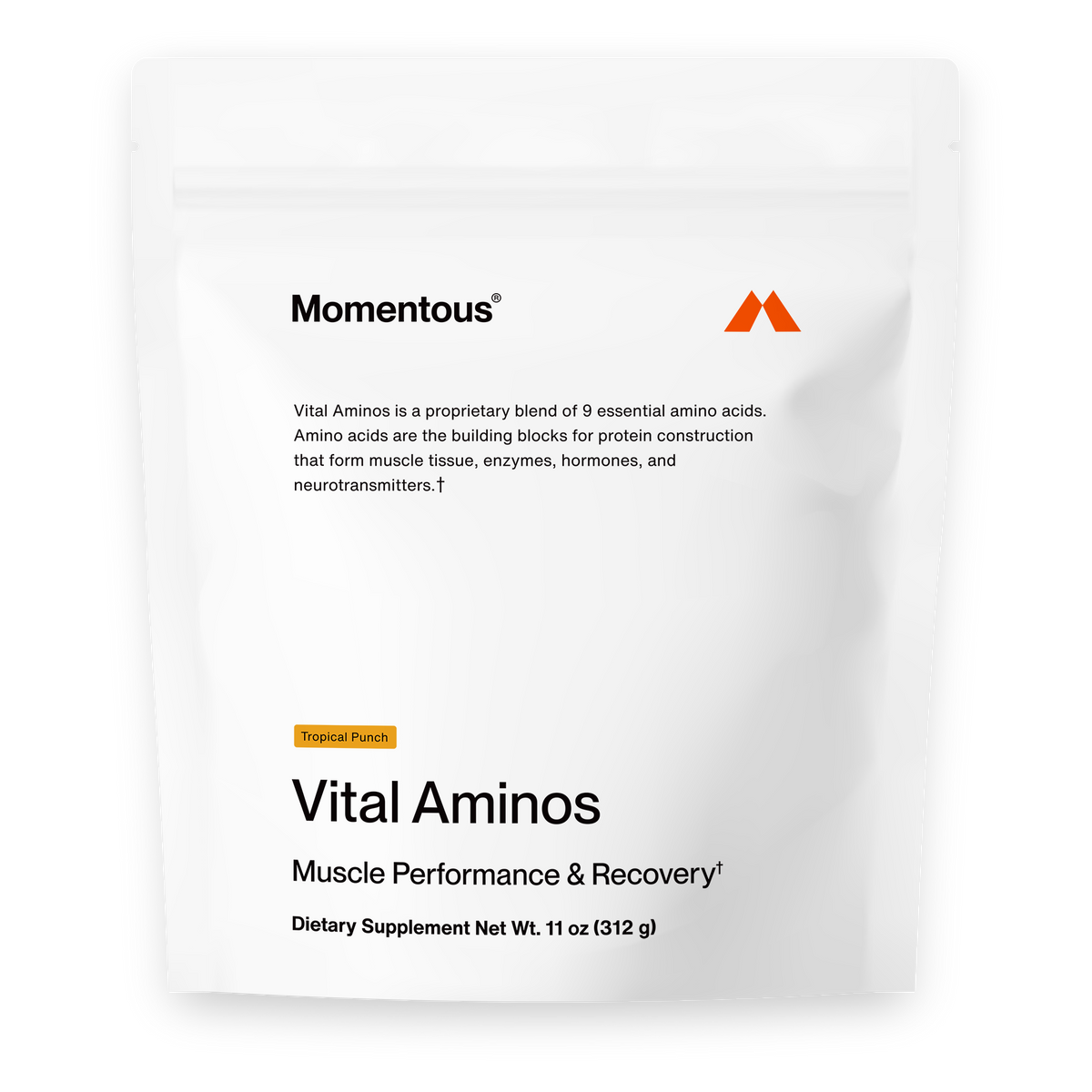 Vital Aminos
Vital Aminos is a proprietary blend of 9 essential amino acids. Amino acids are the building blocks for protein construction that form muscle tissue, enzymes, hormones, and neurotransmitters. Amino acids are a critical building block contributing to multiple physiological functions through the construction of proteins that form muscle tissue, enzymes, hormones, and neurotransmitters. They also manage metabolic processes and uphold the body's pH balance, contributing to your body's optimal performance.

Helps support muscle growth and repair
Boosts exercise and athletic performance
May reduce muscle soreness
Helps increase energy production
Supports connective tissue health
Mix 1 scoop with 8-10 fluid ounces of water or preferred liquid daily
Combines all 9 essential amino acids with 4 additional ones, giving you a superior source for enhanced protein intake
Contributes to constructing proteins that form muscle tissue, enzymes, hormones, and neurotransmitters
Manages metabolic processes and upholds the body's pH balance, contributing to your body's optimal performance
L-Leucine, L-Lysine HCI, L-Isoleucine, L-Valine, L-Arginine, Alpha Ketoglutaric Acid, L-Threonine, L-Phenylalanine, L-Histidine HCI, L-Cystine, L-Methionine, L-Tyrosine, L-Tryptophan
Impeccably High Standards
Meticulously sourced and combined
Vital Aminos stands out due to its comprehensive blend of essential amino acids, combined with four additional amino acids that are meticulously sourced and combined to deliver maximum benefits. Momentous ensures the highest quality by using NSF and Informed-Sport-certified ingredients, guaranteeing that what's on the label is in the bag.
Momentous Vital Aminos Powder
Notes from the Lab
Take daily during or after your workout to aid in muscle repair and replenishment
Take as a dietary supplement for more protein at any time of the day
Mixes well with water or your preferred liquid
Studies have consistently demonstrated the importance of essential amino acids in muscle repair, growth, and overall performance. The blend of 9 essential amino acids and 4 additional carefully selected amino acids in Vital Aminos can have a positive impact on recovery, strength gains, and cognitive function.
There are 4 credible reviews and studies related to this product
From Kelly Starrett, New York Times bestselling author and movement optimist
"Momentous Vital Aminos are a perfect solution when I want to make sure I'm keeping an eye on my lean muscle mass when I'm too close to hard training to eat. Often, after surgery and injury, appetite drops. This can make it more difficult for athletes to cover their essential protein requirements to heal appropriately. Momentous Vital Aminos easily cover this need."
What to Expect with Vital Aminos
Onset Time
14 days
Estimated 2-4 weeks of supplementation for noticeable improvements to be felt. For optimal benefits, continue usage for an extended period.
Expected Results
Muscle Performance
Muscle Recovery
Results may vary depending on individual factors, but consistent use of Vital Aminos, coupled with a balanced diet and regular exercise, can lead to noticeable improvements in recovery time, strength gains, and overall performance within weeks.
Ingredients We Can Be Proud of
Frequently Asked Questions
EAA's (Essential Amino Acids) are the amino acids that the body cannot manufacture on its own and must be obtained from food or supplements. The nine EAAs are phenylalanine, valine, threonine, tryptophan, methionine, leucine, isoleucine, lysine, and histidine. BCAA's (Branch Chain Amino Acids) are made up of three EAAs: leucine, isoleucine, and valine. BCAA's have a slightly different chemical structure (their side chain is branched) which allows them to be broken down in the muscle instead of the liver. Vital Aminos includes all EAA's and BCAA's plus 4 additional amino acids that were selected due to their benefits for nitric oxide, antioxidant action, and neurotransmitter health.
Momentous Vital Aminos comes in a powder form, making it easy to mix with water or your favorite workout beverage. Vital Aminos can be taken with a whey protein to improve overall amino acid profile and jumpstart recovery. They can also be paired with many of our products like Creatine, Collagen, Recovery, or Fuel to enhance performance and recovery.
For best results, consume the supplement before, during, or after your workout. You can also take it as a dietary supplement at any time of the day.