x Huberman Lab
Life Optimization through the lens of neuroscience.
We're teaming up with Huberman Lab to transform human health and performance. Explore and shop our suite of best-in-class supplements featured on the podcast.
Shop The Collection
Receive discount off orders as a loyal Huberman Lab listener
The Momentous Difference
High-Quality Ingredients

Single, quality ingredients with no fillers

Independently Certified

Rigorously tested by independent third parties

Expert Driven

Products curated by world-class experts

Shipped Internationally

Customers in 200+ countries

Optimized Health
We collaborated with Huberman Lab to develop a suite of supplements that optimize health in the areas of sleep, cognition, focus, physical performance, hormone support and longevity.
Shop Full Collection
Complete Sleep Bundle

Dr. Huberman on
Sleep Support
"Sleep is the foundation of mental health, physical health and performance of all kinds. Sleep also controls our immune system, wound healing, our skin health and prevents cognitive decline as we age."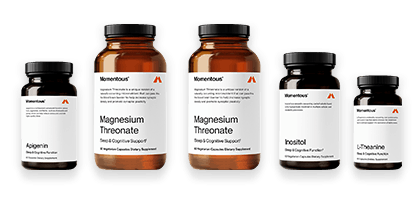 The Complete Sleep Bundle was meticulously crafted from nature's potent elements like Magnesium Threonate, Apigenin, Inositol, and L-Theanine; each ingredient has been handpicked by Dr. Andrew Huberman to ensure that you get the quantity and quality of sleep you deserve. Dive deep into restful nights and awaken to a world of newfound energy, clarity, and vitality.
Focus & Cognition Bundle

Dr. Huberman on
Cognitive Support
"Nerve cells and other cells in the brain are made up of structural fats which come in large part from the foods that we eat (i.e., essential fatty acids & phospholipids). Fat is the most important element for brain function. Most people are getting enough omega-6s in the diet but not enough omega-3s."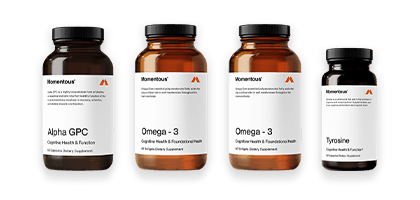 The Focus & Cognition Bundle contains, Tyrosine, Omega-3, and Alpha GPC, which all have established roles in supporting neural function. These ingredients work together to improve brain function and enhance mental clarity, focus, and motivation, helping you to achieve your best cognitive performance.
Male Hormone Support Bundle

Dr. Andrew Huberman on
Hormone Support
"The amazing thing about hormones, is that hormones impact how we feel, what we do and what we think, but these things also can impact our hormones. Hormones affect every single one of us, ever single day, in wakefulness and in sleep and throughout our lifespan."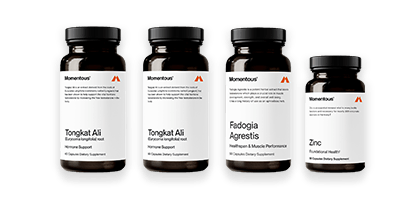 The Male Hormone Support Bundle combines Tongkat Ali, Fadogia Argestis, and Zinc Picolinate – three powerhouses that elevate male vitality, enhance stamina, and stabilize hormone levels